Welcome to Satellite Connections, Inc.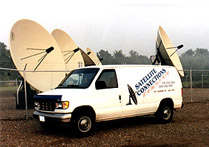 Satellite Connections, Inc has been serving the satellite industry for 31 years. Satellite Connections, Inc is headquartered in Lima, Ohio. A single source for Dish, Directv, Highspeed Internet, Home Security and commercial Dish and Directv satellite products.
In the commercial field of the satellite industry, Satellite Connections has worked with high schools, universities, hotels and business is building systems to fit their individual needs. We service Lima Ohio, Findlay Ohio, Columbus Ohio, Toledo Ohio, Cleveland Ohio and Cincinnati Ohio, plus many other surrounding areas and Indiana, Michigan, Kentucky, and Pennsylvania.
Customer satisfaction is our number one goal. Satellite Connections, Inc. is committed to provide the customer with the highest quality sales and service.